If you are planning on spending your summer vacation in the Balkans, we are thrilled to welcome you! Beforehand, let us give you several insights into the possibilities offered and a couple of pieces of advice on how to spend your time and money wiser.
Beach Time
Out of 6 Western Balkans countries, 3 have access to the sea, although Bosnia & Herzegovina has a tiny one, considering that only the city of Neum is a coastal town in this country. Montenegro and Albania are the other two, with very long coastlines, taking in mind the size of these countries. 
Being located in the Mediterranean, precisely Adriatic and partially Ionian Sea, it is easy to imagine how beautiful the beaches here are! Sandy paradise, crystal clear azure water, lovely people surrounding you and it can be the vacation of your dreams! 
Take a look at the links below for more information.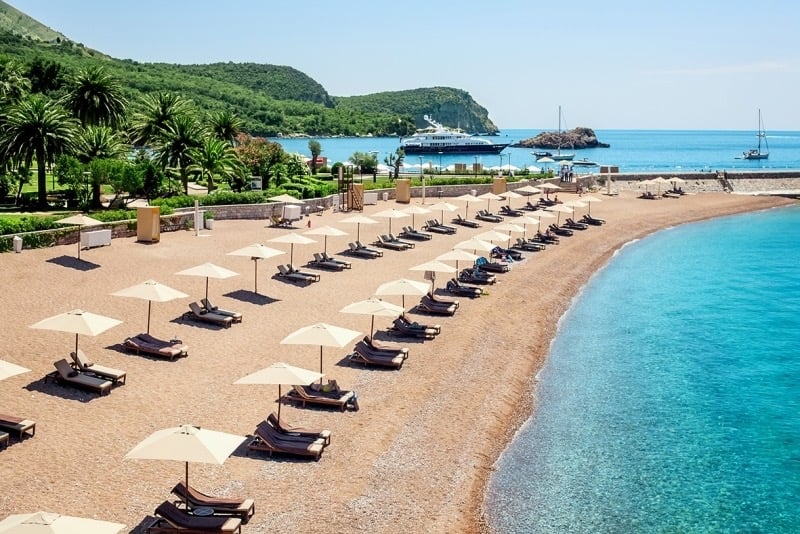 Mountains Time
Dinarides Mountain Range is spreading all over the Balkans, making this area one of the most mountainous in comparison to the size of the region.
Unlike the coast, the mountains stand out with a more continental climate, making the summer mild and fresh. If you are not a fan of the summer Mediterranean heat, then the mountains of the Balkans are a good choice for you.
If you are looking for an adventure, you can jump on a journey of hikes and explore these magnificent massifs on foot. From Via Dinarica to Peaks of the Balkans or our own Explore Balkans routes, we are sure you will be delighted. 
Lakes Time
Numerous small and numerous big lakes around the Balkans region are just showing how this area is rich in water and pure in natural treasures.
If you like big lakes, then Skadar Lake or Ohrid Lake would be a great choice for you, spreading between Montenegro, Albania and North Macedonia.
Other than these, our Explore Balkans tour operators offer adventures at the Uvac Lake in Serbia and Perucac in Bosnia & Herzegovina, and along the way, you will be able to see a variety of lakes of all sizes. 
Find more information at the links below.
Rivers Time
The Balkans region is intersected with so many beautiful rivers with cultural, historical and natural heritage. The deepest canyon in Europe is located in this area and it's Tara Canyon, belonging to the National Park Durmitor which is protected by UNESCO. Tara flows into the Drina, which is one of the biggest rivers in the Balkans in terms of water quantity, and it is one of the rivers where our kayaking tours take place. Also, it is best known for the Bridge Over Drina (Na Drini Cuprija) novel, written by a Nobelist, Ivo Andric.
If kayaking, white water rafting or any freshwater activities are your cup of tea, then book your next adventure in the Balkans with us!
Read more about the Balkans' most amazing rivers at this link.
Traffic Jams
When travelling to the Balkans during the summer, arm yourself with patience, as the Balkans' road infrastructure is not that developed to support the number of people visiting. This often leads to traffic jams and crowds at border crossings, especially between Montenegro and Croatia, but also, Montenegro and Albania. 
Tend to show your care for the local community and travel with purpose, so always try to use more practical means of transportation such as bicycles in the cities, or buses in between the cities. 
These are small countries with small cities, so it will be more than easy and super interesting to explore the locations on foot.
Rural Areas
For travelling with purpose in the Balkans, we have a recipe! Indulge yourself in the rural areas of this stunning region and explore the intact communities, natural treasures and cultural secrets, and you will get back home richer for an experience that no one can take away from you or anybody could repeat the same in the other destinations.
The soul of the Balkans lies in its rural zones, where you will be able to meet families and individuals that are living the same lifestyle as 100 or 200 years ago.
Support these communities and have the best summer vacation of your life!
Explore our tours, perfectly fitted for the summer season, with the accent on rural, eco and adventure, at this link.